Garrett Handdetectors / hand METAALDETECTORS om met de hand te bedienen.
Garrett handdetectors worden wereldwijd gebruikt door politie , overheid, bewakingsbedrijven en particulieren die messen, pistolen,geweren en revolvers buiten de deur willen houden.
Hierdoor ook zeer geschikt voor de horeca en tijdens grote evenementen.

Security checkpoints are not complete without today's invaluable hand-held metal detectors. From the "often imitated, but never duplicated" SuperScanner to our 360° detection SuperWand and compact THD, Garrett hand-held metal detectors offer an effective and affordable means for locating potentially harmful metallic weapons.
Prijs: € 210,00

SuperScanner [ Klik hier voor meer informatie ]

One switch operation
Ultimate sensitivity
Does not require adjustments
Rugged, high-impact ABS case with reinforced coil compartment
Detects medium sized pistol from 9"; large knife from 6"; razor blade and box cutter from 3"; foil-wrapped drugs and tiny jewelry from 1"
Large 10" scan surface for quick, thorough scanning
No tools required to change 9V battery
Sharp audible alarm and bright red LED light indicates the detection of metal
Momentary push button temporarily eliminates detection of nearby ambient metal such as rebar, metal walls, etc.
Green LED light indicates ON; Amber LED indicates low battery; Red LED indicates ALARM
Prijs: € 211,--

SuperWand

[ Klik hier voor meer informatie ]
Optimum sensitivity with automatic retuning - never needs adjusting
Accurate detection of all ferrous, non-ferrous and stainless steel weapons, contraband and other metallic objects
Elongated profile offers 360° detection coverage plus tip pinpointing for easy scanning from head to foot
Easy and convenient to use with one-touch button and three-color LED lights
Clear audible or Silent / Vibrate LED alarm signal
Rugged injection molded construction including structurally isolated coil for added impact absorption
Large 9.5" scan area allows thorough scanning with minimum passes
Ergonomically designed grip fits comfortably in virtually every hand
Easy ON / OFF battery cover
9V battery (included) operation
Power switch and LEDs positioned for easy access and high visibility
Prijs: € 245,-- NEW

THD - Tactical Hand-Held Detector [ Klik hier voor meer informatie ]
Ultra sensitive response time to metal objects
Accurate detection of all ferrous, non-ferrous and stainless steel weapons, contraband and other metallic objects
360° detection area
Does not require adjustments
Silent Vibrating / Red LED Mode
Bright LED flashlight for low light and night operations
Sealed waterproof construction
High impact case with molded rubber grip
Easy ON / OFF battery cover
9V battery (included) operation
Ballistic weave holster (included) mounts easily on belt or in car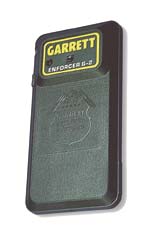 Prijs: € 165,00

Enforcer G-2 [ Klik hier voor meer informatie ]
Detects medium-sized pistol at 7"; large pocket knife at 5"; razor blade at 3"; hatpin at 1"
Red Alarm light and audible alarm indicates a metal target has been located
Easily slips into a shirt or coat pocket and can be held in the palm of the hand
Operating procedures written on panel
Rugged, high-impact plastic case designed to provide long, dependable service
Engineered to operate under rugged conditions
Automatic tuning, requires no adjustments
Automatic battery check
Optional recharging unit permits use of Ni-MH rechargeable batteries
Optional earphone for use in noisy or loud environments